Please fill out this form to begin the conversation with IceStone Sales Lead Doug McCulloch who will help you with your selections.
BEAUTIFUL, DURABLE SURFACES THAT RESPECT THE EARTH
Choosing an IceStone countertop or bathroom vanity, fireplace surround or outdoor kitchen, means your home will have a truly unique and gorgeous surface that is a breeze to care for. Simply put, there is no other countertop like IceStone.
IceStone is the only Cradle to Cradle Certified™ durable surface in America and the only countertop to achieve a Silver certification for its dedication to its commitment to five critical performance categories: Material Health, Material Reutilization, Renewable Energy and Carbon Management, Water Stewardship, and Social Fairness.
It's easy care surfaces are gorgeous and unique expressions of the meeting of function and sustainability.
Alpine White, Pearl Grey, Sage Pearl, Snow Flurry and White Pearl shown above.
Made from 100% post-industrial recycled glass and cement, IceStone is the MOST sustainable, responsibly made, ecofriendly countertop on the market. Since IceStone's inception in 2003, they have operated under a triple bottom line: putting people and planet first. IceStone was a founding B Corp member. Whether using IceStone for countertops, vanities, conference tables, reception or retail exchange areas, IceStone will help you realize your vision elegantly and responsibly. To date, IceStone has diverted over 17 millionpounds of glass from landfills.
Slab Size: 52.5" x 96.5" x 1.25"nominal (35 sq. ft.)
Weight: 570 lbs/slab, 16.3 lbs/sq. ft.
• 75% recycled glass by weight
• Superior stain resistance
•Cradle to Cradle Certified™ Silver & Bronze
• High heat resistance
•Recycled content and material health disclosure help contribute to LEED points
•NSF 51 Certified for splash zone applications in food-related establishments
• No petrochemicals or resins of any kind
• UV stability for exterior applications
• No yearly maintenance
• Recycled content that reduces its carbon footprint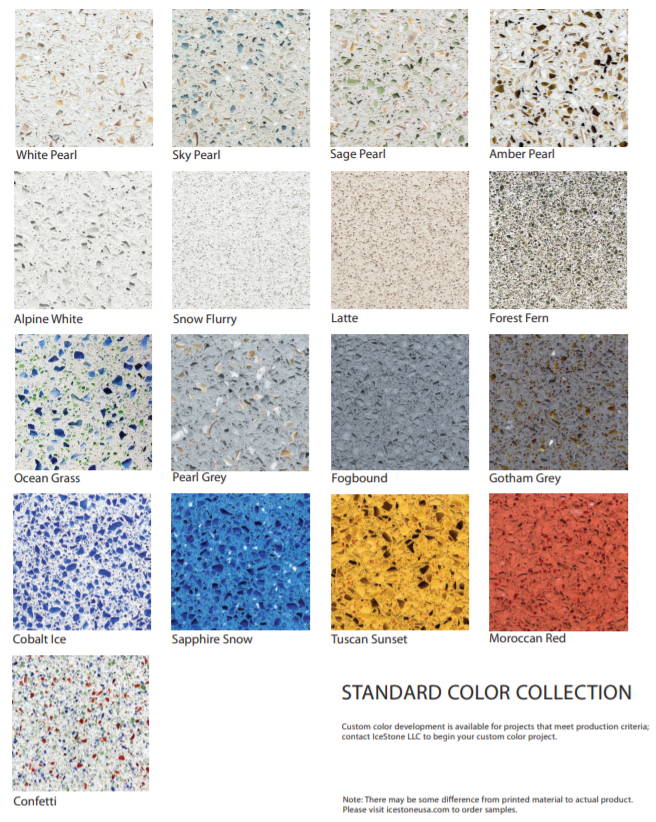 How did we curate this product?
While there's no universal standard for sustainable manufacturing, Living Deep is committed to supporting brands, makers and manufacturers that are on a 'deep green' path, making progress towards positive environmental and social benefit. As we consider how this product impacts our health and the health of all species, you can learn more about how we evaluate products, or keep reading below for our curation of this specific product...
Where does the product come from?

Made from three simple ingredients – recycled glass, Portland cement and non-toxic pigment.
Where does it go at the end of its life?
IceStone is an incredibly durable surface that comes with a Limited Lifetime Warranty. At the end of its life it may be crushed and used for roadbed or construction.
At IceStone our surfaces are more than products, they are a manifestation of our ideals. We are a triple bottom line company. We measure our success by more than profits.
We also ensure that our employees are empowered and we are doing everything we can to be good stewards of the planet and that we continually invest in the health and dignity of all of our people. Our values inform everything we do. So when you invite an IceStone countertop into your home or business, you can feel good about how it got there.
IceStone began in 2003 with a simple concept; transform waste glass into something beautiful. The founders set out to create a business that integrated sustainable, responsible practices from process to product, and to provide a high design solution that would address a real need. With capital investment from over 70 progressive angel investors including Ben Cohen from Ben & Jerry's, activist and author Dal LaMagna, the founder of Tweezerman, Greg Steltenpohl from Odwalla, and Gary Hirshberg from Stonyfield Farm, IceStone recycled glass surfaces were brought to market. Since then, IceStone has diverted over 17 million pounds of glass from landfills, and has made its employees partners of the company, all while manufacturing our product in the historic Brooklyn Navy Yard. Today, IceStone's signature recycled glass and cement products remain an icon of the new countertop industry, delivering unparalleled style that brings design projects to life.