Please fill out the below form to begin the conversation with Nicolette Grieco, VP Regional Sales Manager:
STRONG, VERSATILE, BEAUTIFUL
A floor isn't just a considerable part of any building project — it has the potential to make a considerable impact on the environment. At Teknoflor, we're proud to be an industry leader in manufacturing and selling products that promote human health, protect the environment and conserve resources. We're dedicated to playing a responsible and active role in sustainability and transparency, both in today's world and for generations to come.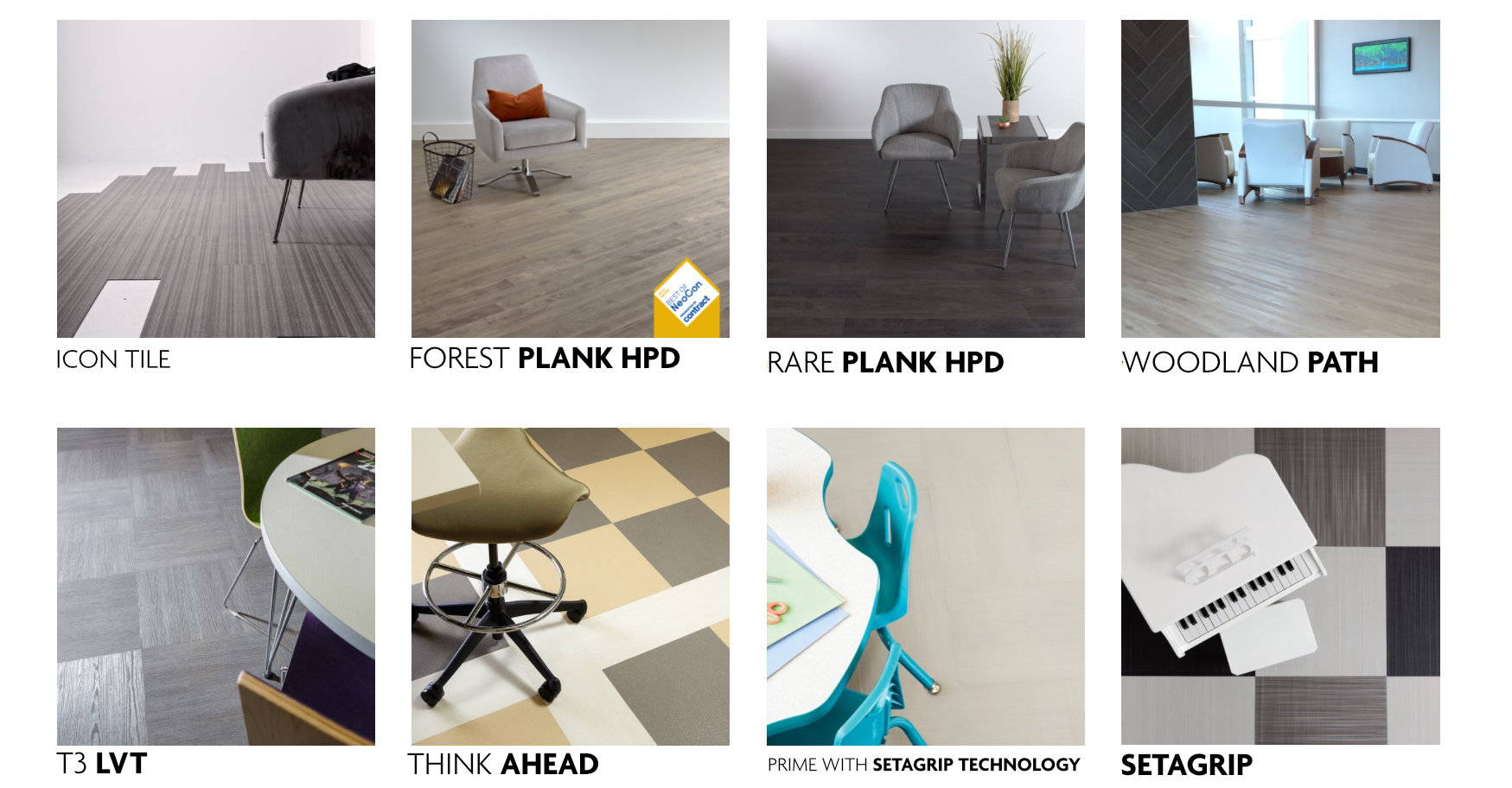 Click below to help you visual your new beautiful room!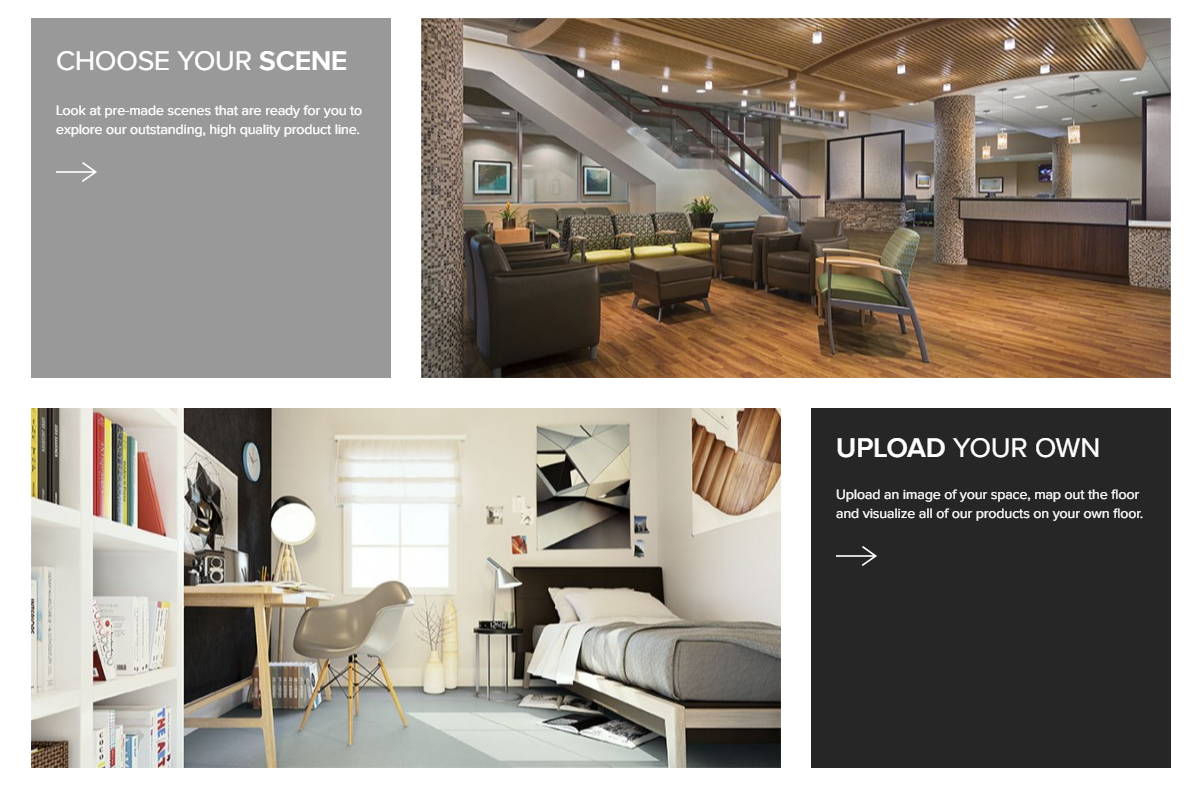 Teknoflor Icon Tile HPD™ was designed to bring a new dimension of design to any commercial setting. The line hosts 22 skus in three distinct and beautiful visuals for countless design options. "Feathered Concrete" is true to its name and offers an industrial strong, but soft aesthetic while "San Tropez" offers a carpet-like textile that is destined to turn heads; both in a 12"x24" format. Denim, offered in a 7.08"x 47.24" plank construction offers a true "denim" visual in a head-turning plank with unique lines and hues. Constructed and designed to coordinate with your favorite wood looks, its 2.5mm thickness will sit next to our Forest Plank HPD or our resilient sheet products without the need for a transition strip.
Teknoflor Forest Plank HPDcoordinating luxury vinyl plank brings a new sense of versatility and efficiency to the commercial flooring industry. The Teknoflor brand of commercial sheet flooring has built its name on durability and realism and now with Forest Plank HPD, offers a coordinating Luxury Vinyl Plank for its most popular Forestscapes HPD™ resilient sheet. Designed to mimic every detail, Forest Plank HPD was built in a four-inch plank with complementing visuals in every carton for heightened realism and coordination. Perfect for any commercial application, Forest Plank HPD holds true to Teknoflor's No Wax, No Buff principle and its promise of high performance design.
Teknoflor Rare Plank HPD Luxury Vinyl Plank is designed to offer the look of real wood in a durable, modern and low-maintenance design. Twenty-two traditional, realistic wood visuals are now available in 7.09" x 47.24" planks that are made from 100% virgin vinyl, which means they are free of phthalate plasticizers. The planks stand true to the Teknoflor brand's signature low-maintenance qualities, requiring No Wax and No Buff. Each plank is cut from one large piece of print film, providing a realistic and beautiful variation within each carton. This warm wood look will fill any space with rich beauty for years to come.

Nothing compares to the warm and welcoming appearance of real wood – unless it's Woodland Path Luxury Vinyl Plank flooring. Nano-Silver technology is added to the floors surface layer. And true to its name, Woodland Path is available in a wide selection of handsome wood species, ensuring a beautiful foundation for any setting. Manufactured in a wide variety of beautiful and realistic wood species. Wood pattern film is fused under high pressure between a backing layer and a state-of-the-art wear layer utilizing two coats of UV-cured polyurethane Recipient of 2016 ADEX Platinum Award for Design Excellence
With three beautiful categories, TUF STUF T3 Luxury Vinyl Tiles offer a wide variety of design options. The TEXTURES collection encompasses woods, marbles, slates and travertine. The TEXTILES collection has a soft textile look, but with the durability and performance of a hard surface. The TECHNOLOGY collection represents the latest advancements in modern day living, with patina metal and stained concrete designs. Mix and match all of our tiles with confidence thanks to our 23 mil. wear layer and 15-year warranty.

Tuf Stuf's Think Ahead Collection of Luxury Vinyl Tile and Plank was designed to reinvent the way we look at flooring. The collection includes vibrant and inspiring designs that are constructed to uphold the heaviest of traffic with true durability and stays true to the "No Wax, No Buff" features. Think Ahead combines exceptional beauty, durable performance and complementary designs in eight unique styles including traditional linen looks, contemporary whimsical designs and bright colorful wood patterns. Think Ahead is made of 100% virgin PVC vinyl, non-phthalate plasticizers and is free of heavy metals ensuring a responsible choice for retail, hospitality, corporate, healthcare, senior living and education environments. Eight styles with 39 innovative designs and colors, 28 – 18" x 18" Designer Tiles and 11 – 9.25" x 59.25" colorful Wood Planks. Each pattern and colorway designed to "mix & match" to create endless design combinations. Recipient of 2016 ADEX Platinum Award for Design Excellence.
Teknoflor® Prime™, with Setagrip™ technology, brings a new level of versatility and ease of installation to the commercial flooring industry. Using biomimicry, Setagrip technology uses millions of micro-sized pores, which create negative air pressure to ecurely adhere to a non-porous surface without the need for an adhesive. Teknoflor Prime HPD is offered in twenty vibrant and neutral hues in a 12" x 24" format and a durable 5mm gauge and tough 30mil wear layer. Perfect for any commercial application, Prime HPD holds true to Teknoflor's No Wax, No Buff principle and its promise of high performance design.
Setagrip looks to nature to find the answer. It's no secret that the greatest innovations come from nature. Nature has inspired solutions for everyday challenges including those in design. Scientists have studied the feet of geckos and have found that they contain physical properties that promote stickiness. Using biomimicry, we studied the gecko and began looking into micro-suction technology. This technology uses millions of micro-sized pores, vacuum and negative air pressure to securely adhere any object to a relatively flat, non-porous surface. We applied this technique into our flooring manufacturing process and Setagrip was born.
How did we curate this product?
While there's no universal standard for sustainable manufacturing, Living Deep is committed to supporting brands, makers and manufacturers that are on a 'deep green' path, making progress towards positive environmental and social benefit. As we consider how this product impacts our health and the health of all species, you can learn more about how we evaluate products, or keep reading below for our curation of this specific product...
Where does the product come from?

100% Virgin PVC vinyl, non-phthalates plasticizers and free of heavy metals.
Where does it go at the end of its life?
100% Virgin PVC vinyl, non-phthalates plasticizers and free of heavy metals.
HMTX Industries is a global new materials flooring company and a leader in LVT manufacturing whose brands service a diverse cross-section of the construction marketplace. Headquartered in Norwalk, CT, and doing business in more than 40 countries around the world, the HMTX family includes Halstead in North America, the leading supplier of LVT to The Home Depot; Metroflor, its signature residential brand in North America; Teknoflor, its focused healthcare and institutional brand; Aspecta, its high-end global contract brand for architects and designers; as well as Vertex, the foundation of the international supply chain for HMTX.
There is no related products to display.