DETAIL AND LUXURY, WITH A RESPECT FOR SUSTAINABILITY
The Ting Sling - The iconic design of the Ting Sling has graced yachts, pool decks, patios and gardens around the world for over fifteen years. Ting Studio designed and developed the Ting Sling hammock in 2000 and has since evolved and enhanced the design and manufacturing process. A collaboration between Inghua Ting and Niki Smart who met at the Royal College of art in 1997, where they were studying Constructed Textiles and Vehicle Design respectively. The Ting Sling represents their first joint work, where textiles meets automotive design. The innovative use of woven seatbelt combined with the surface development software used to design vehicles, creates a unique three dimensional body contoured woven hammock.

Strength - Seatbelt material is designed to meet the most stringent automobile crash safety tests. This high strength material also has a smooth weighted feeling and when woven into a hammock, the performance and feel of the fabric perfectly compliment one another.
Technology - A three dimensional model was created to reflect the slung contours of the human body. These shapes were digitized into a surface that was then deconstructed to break down the individual lengths of each strap of the hammock. The resulting shape transitions from a flat plain weave at each end to a deep concave through the centre of the hammock. This not only creates a more comfortable conforming surface to lay on, it also helps to maintain stability when getting in and out of the hammock.
Engineered - All of the metal parts of the Ting Sling are made to last. 304 stainless steel is used throughout, with 316 specification available for more demanding salt water climates.
Hand Woven - Each hammock takes one day to weave with our highly skilled craftsmen. Special care is taken to achieve the correct tension required to ensure the integrity of the unique three dimensional weave.
Ting's 'Sling' is hand woven into a body contouring 3 dimensional form using seatbelt in a choice of bright shades.
Hand Made in the European Union (EU).
Tough nylon rope and polished stainless steel hardware with 'TING SLING' etched logo.
Stainless steel tubes support the hammock on each end providing strength and durability.
Ting recommends a maximum safe weight of 113 kilos / 250 lbs.
Bespoke colour combinations and double size hammocks can be made to order, please contact studio@tinglondon.com for more information.
Care: Clean with warm soapy water and allow to air dry. Please contact Ting for more detailed instructions.
Ting Sling Patent Number: 4005209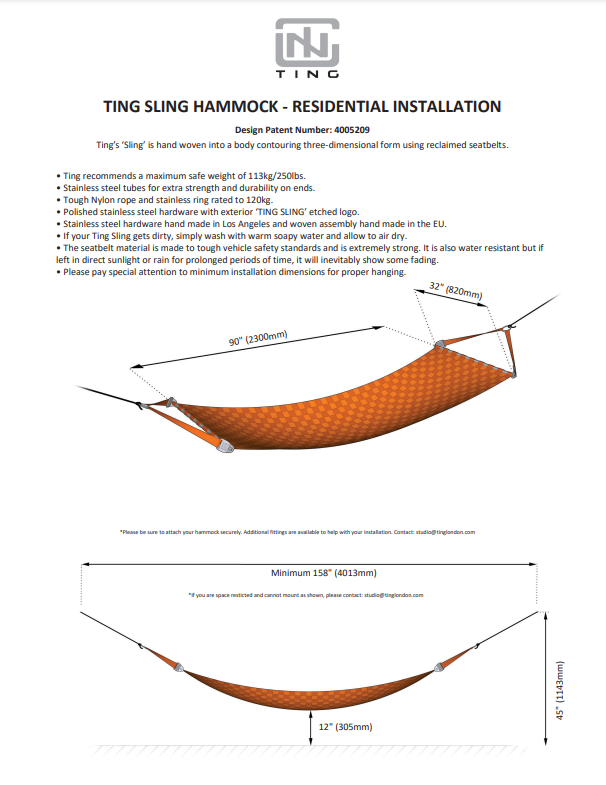 How did we curate this product?
While there's no universal standard for sustainable manufacturing, Living Deep is committed to supporting brands, makers and manufacturers that are on a 'deep green' path, making progress towards positive environmental and social benefit. As we consider how this product impacts our health and the health of all species, you can learn more about how we evaluate products, or keep reading below for our curation of this specific product...
Where does the product come from?

The Ting studio in Los Angeles, California
Hand Made in the European Union (EU).
Tough nylon rope and polished stainless steel hardware with 'TING SLING' etched logo.
Stainless steel tubes support the hammock on each end providing strength and durability.
Where does it go at the end of its life?
All components of this product can be recycled.
British born, Los Angeles based designer Inghua Ting established TING in 2000, following her graduation from a Masters in Woven Textiles at the Royal College of Art, London.Ting's signature style reveals an understanding of tactile textures, detail and luxury, with a respect for sustainablity. The studio explores work from existing materials wherever possible creating a combination of the luxurious, the uncompromisingly hand-crafted and the unexpected.
Included in Taschen's 'Product Design In The Sustainable Era', Ting is recognized for leading in this arena.
Ting works closely with clients to develop individual work on a commission basis. Some of Ting's brand clients include Nike, Google, Warner Bros, Lexus and Bliss. The studio's collection has been included in exhibitions in Selfridges in London, Colette in Paris, Bergdorf Goodman in New York and Adrian Grenier's SHFT in Los Angeles.